Live Alghero Airport Arrivals (AHO)
Not all flights may be showing. If not available use search above to find your flight by airline, airport or flight number.
Origin
Airline
Flight no.
Scheduled
Est./Actual
Status
No flight arrivals were found.
Flight Arrivals
All inbound guests of Alghero Airport are advised to check and collect their personal belongings before disembarking the aircraft.
Signages lead arriving passengers to the Baggage Claim area, specifically at the Arrivals Hall.
Baggage carts are also available near the terminal doors and the baggage carousels to assist passengers with heavy luggage and easy luggage transport.
In case of lost items upon arrival, passengers should approach the Lost and Found Office to request assistance.
Transfer services such as buses, taxis, and car hires are available at the airport at your disposal.
Upon arrival at Alghero Airport, you can check out their Tourist information office for more information you'll need for your journey in Sardinia.
Rental Cars
Some of the most essential rent-a-car companies are available at Alghero Airport. They offer customers the best rental services, assistance, and further information on road routes and conditions.
Car rental counters are located outside the arrivals lounge. See and compare all rental car companies at Alghero Airport.
It is best to rent a vehicle upon arrival at the airport or to book in advance, especially during peak season.
Arriving passengers interested in renting a car must be at least 21 years old. To qualify, one must have a valid driver's license and another identification card. Meanwhile, tourists must obtain an International Driving Permit.
Car Rental Rates may vary depending on the company and the selected vehicle.
Ride Shares
Rideshare services are rare in Sardinia. Therefore, we do not recommend this kind of transportation. Please look for other options.
Taxis
Riding a taxi from Alghero Airport to the downtown area is possible.
A 24-hour telephone switchboard taxi service is available inside the airport at your disposal.
The city of Alghero is only 10km from the airport, approximately 15 minutes away.
There are no flat fees; however, taxis into the town center of Alghero cost €20.00 to €25.00.
Booking online is encouraged, or contact your taxi service provider for more information and/or reservations. See more information about taxis at Alghero Airport.
Buses
Airport bus stops to all destinations are located outside the airport on the right side, about 150 meters from the arrival entrance.
Bus tickets should be purchased firsthand before boarding the bus. You can buy your bus tickets on the automatic vending machines inside the airport (ARST Machines), at the bus stop, online on the ARST website, at all authorized retailers, and in some tobacco and lotto shops. Tickets are €1,00.
Please contact your bus company for further up-to-date information about destinations and timetables.
Departure and arrival times can be subject to changes during public holidays. Please check in advance for possible changes with the transportation company. More information about buses to and from Alghero Airport.
Trains
Though there is a train station near the town center of Alghero, there is no train station that connects the Alghero town center to Alghero Airport. We recommend using another type of public transport. More information about train services near Alghero Airport.
Hotel Shuttles
Arriving Alghero Airport passengers with local hotel bookings may reserve their Airport Shuttles before arrival.
Most hotel accommodation in Alghero offers and provides shuttle services to their clients. Some may offer a complimentary shuttle service, while others apply a surcharge for the transfer assistance.
Thus, travelers should check and confirm their shuttle services before arriving at Alghero Airport.
Other Services at Alghero Airport
Inbound passengers of Alghero Airport can utilize services such as pharmacy aid, medical equipment, ticketing counters, meeting rooms, WiFi access, and cash machines.
Please refer below for other highlighted services in the airport.
Disabled Passengers
With the use of trained employees and the necessary equipment, the management company of Alghero Airport can provide proper assistance to people with disabilities or reduced mobility in the airport and on board the aircraft following the regulation European Commission 1107/2006 on the rights of persons with disability.
The management also provides:
Courtesy Room (Sala Amica), a lounge located in the check-in area, is reserved for passengers with reduced mobility and special needs.
Wheelchairs of different sizes
Ambulift for boarding and disembarking on the aircraft.
Tactile paths
Air carriers, their agents, or tour operators must be notified 48 hours before their arrival. It is advised that requests are made at the time of booking. When booking, it is essential to specify what assistance is required.
For more information on the rights of PRMs, please refer to this link:
https://www.aeroportodialghero.it/public/Guida_passeggeri/Check-in/What_you_need_to_know_Ed_2018.pdf
WiFi
At the Alghero Airport, you can surf the internet for free. The network of hotspots is available throughout the airport. It allows passengers and visitors of "Riviera del Corallo" to access the web with all the advantages of WIFI connectivity.
There is a simple registration procedure:
Enter your email on the registration screen on the internet browser.
Send the request.
Wait for a confirmation email.
This service is offered free from the Alghero Airport to all its guests.
Baggage Claim
After deplaning the aircraft, all guests with check-in luggage must proceed to the Baggage Claim area at the arrivals hall.
Baggage carts are provided for passengers needing assistance with their heavy luggage.
For damaged and missing luggage, you can ask for assistance at the Lost and Found Desk located in the arrivals reclaim area and to inform your airline(s).
Guests can also contact the Lost and Found Office on these numbers: Tel. +39 079 557 0176, +39 366 6840325, or you may email them at lostfound@sogeaal.it.
Information Center
A tourist information office is next to the check-in area to assist passengers with any information they need for their journey.
Smoking
Smoking is not allowed inside the airport terminal. However, it is not prohibited and must be done outside the terminal.
Lost and Found
In case of lost items or pieces of baggage upon arrival at the Alghero Airport, passengers should request assistance from the Lost and Found Section near the Arrivals Lounge.
For further information, refer to this link:
https://www.aeroportodialghero.it/public/Guida_passeggeri/Check-in/What_you_need_to_know_Ed_2018.pdf
Restrooms
Inbound passengers may utilize public restrooms conveniently available inside the airport property.
Nursing Station
Nursing stations are not available at Alghero Airport; however, passengers with reduced mobility can ask for assistance at the designated help points inside and outside the terminal. You can utilize this special assistance for PRMs to attend to the needs of travelers with infants.
ATMs
There are two ATM machines available inside the airport. Euronet ATM and bank of Sardinia ATM are available for cash withdrawals using debit cards, credit cards, and prepaid cards.
These ATM machines are open 24 hours a day.
Currency Exchange
Alghero Airport has one foreign exchange office and ATM Machines which outbound and inbound passengers can access for last-minute foreign currency exchange and withdrawal.
Foods and Beverages
Food and drinks can be purchased from restaurants and cafes inside Alghero Airport.
Pet-Relief Area
Alghero Airport has no designated pet-relief areas; however, pets' access to the terminal must be assured by complying with the specific rules.
Pet owners must keep their traveling pets on the lead, especially dogs. They should be wearing a muzzle in all public areas of the Alghero Airport; alternatively, they must be transported in a suitable traveling cage.
People appointed to look after pets must have all the necessary equipment to clean and remove animal excrement.
Furthermore, before booking the flight, it is compulsory to verify airline limitations by visiting its website.
We always recommend checking the policies and procedures for transporting animals with your Travel Agency or airline company.
Please visit Alghero Airport's official page for more information on travel conditions and pet policies.
Was your flight delayed or cancelled?
You may be eligible to receive up to 600 EUR compensation per person in your party..
Claim Now!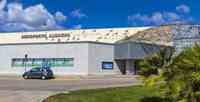 Things to see and do in and around Alghero City, Sardinia in Italy