Origin
Airline
Flight no.
Scheduled
Est./Actual
Status
No flight arrivals were found.
Destination
Airline
Flight no.
Scheduled
Est./Actual
Status
No flight departures were found.
UNBEATABLE VALUE CAR RENTAL
Free Amendments | Free Cancellations | No Card Fees



Useful Information about Alghero Airport Strada Provinciale 44, 07041 Alghero Sassari, Italy
phone +39 079 935011
phone+39 079 557 0176/+39 366 6840325 (Lost + Found)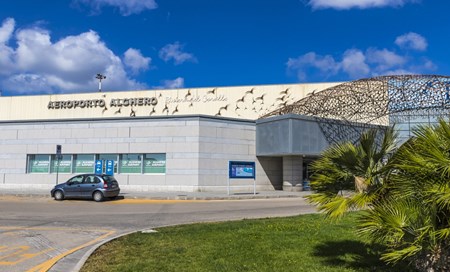 Alghero-Riviera del Corallo Airport (IATA: AHO, ICAO: LIEA), also known as Alghero–Fertilia Airport or Alghero Airport, is an international landing field in Alghero, situated in northern Sardinia, Italy. The airport is 10km away from Alghero City Center.
Alghero Airport is one of the three main airports operating in Sardinia. It is managed by Societa di Gestione Aeroporto di Alghero.
The said airstrip is a focus hub for Ryanair. It has a single-passenger terminal used for domestic and international flights.
Popular international flight routes from Alghero Airport are Barcelona, Madrid, Marseille, Bordeaux, London, Brussels, Memmingen, Katowice, Vienna, and Lisbon.
The airport was once a military airport.
Transfer Services
Alghero Airport offers various modes of transportation for inbound and outbound guests.
Buses, taxis, shuttles, and car rentals are available for transfers to and from the airport.
All the transfer services mentioned above are accessible outside the airport near the arrivals' exit door.
Guests are advised to secure their baggage, personal items, and belongings before boarding or deplaning the aircraft.
For further details regarding transportation, please see the transfer page.
Rental Car Services
Inside the Alghero airport terminal, rent-a-car companies offer customers the best rental service, aid, and information about road situations and routes.
Car rental desks are located just outside the arrivals lounge.
The parking areas are reserved on the same side of the terminal.
Interested qualified renters must be at least 21 years old and above with a valid driver's license and another valid identification card. Tourists must obtain an International Driving Permit.
Car Rental Rates may vary depending on the company and the selected vehicle.
More details about vehicle rentals are available at the car rental services.
Ride Shares
Rideshare vehicles are not available at Alghero Airport.
Taxis
Riding a taxi to and from Alghero airport is possible.
A 24-hour telephone switchboard taxi service is available at the airport at your disposal.
The city of Alghero is only 10km from the airport, approximately 15 minutes by car.
There are no flat fees; however, taxis into the town center of Alghero cost €20.00 to €25.00.
Please note that taxi fares may vary depending on the passenger's destination and traffic conditions within the metro. See more information about taxis at Alghero Airport.
You may book online or contact your taxi service for more information and/or reservations.
Buses
Airport bus stops to all destinations are located outside the airport on the right side, about 150 meters from the arrival entrance.
Bus tickets should be purchased firsthand before boarding the bus. You can buy your bus tickets on the automatic vending machines inside the airport (ARST Machines), at the bus stop, online on the ARST website, at all authorized retailers, and in some tobacco and lotto shops. Tickets are €1.00.
Please contact your bus company for further up-to-date information about destinations and timetables.
Departure and arrival times can be subject to changes during public holidays. Please check in advance for possible changes with the transportation company. More information about buses to and from Alghero Airport.
Trains
Though there is a train station near the town center of Alghero, there is no train station that connects the Alghero town center to Alghero Airport. More information about train services near Alghero Airport.
Therefore, we recommend commuters use another type of public transport.
Hotel Shuttle Services
Arriving Alghero Airport passengers with local hotel bookings may reserve their Airport Shuttles before arrival.
Most hotel accommodation in Alghero offers and provides shuttle services to their clients. Some may offer a complimentary shuttle service, while others apply a surcharge for the transfer assistance.
Thus, travelers should check and confirm their shuttle services before they arrive at Alghero Airport.
Visit our hotel page for more information.
Parking at the Airport
Airport parking has been innovated over time. Accessible and convenient car parks have been established at the airport.
In the airport, several types of parking are priced according to the client's convenience, duration of stay, and distance from the terminal.
Short-term and long-term parking areas are offered at Alghero Airport.
For parking rates and other information, please visit the parking page.
Other Services
Alghero Airport offers pharmacy aid, medical equipment, a lost and found section, ticketing counters, meeting rooms, WiFi access, and cash machines.
Please refer below for other highlighted services in the airport.
Disabled Passengers
Società di Gestione Aeroporto di Alghero (SOGEAAL), the management company of Alghero Airport, with the use of trained employees and the necessary equipment are tasked to provide proper assistance to people with disabilities in the airport and aboard the aircraft based on the regulation of the European Commission 1107/2006 stating about the rights of individuals with reduced mobility in air transport.
The management also provides:
Courtesy Room (Sala Amica), a lounge located in the check-in area, is reserved for passengers with reduced mobility and special needs.
Wheelchairs of different sizes
Ambulift for boarding and disembarking on the aircraft.
Tactile paths
Air carriers, their agents, or tour operators must be notified 48 hours before their arrival. It is advised that requests are made at the time of booking. When booking, it is essential to specify what assistance is required.
WiFi
Free WiFi access is available at Alghero Airport.
Baggage Claim
For damaged and missing luggage, you can ask for assistance at the Lost and Found Desk located in the arrivals reclaim area and to inform your airline(s).
Guests can also contact the Lost and Found Office on these numbers: Tel. (+39) 079 557 0176; Mob. (+39) 366 6840325, or you may email them at lostfound@sogeaal.it.
Information Center
Guests may approach the tourist information office next to the check-in area to assist passengers with any information they need for their journey.
Smoking
Smoking areas are not available inside the airport. However, it is not prohibited and must be done outside the terminal.
Lost and Found
Alghero has a lost and found section for missing items within the facility.
Please look for the Lost and Found Office located at the Arrivals Hall near the Baggage Reclaim Area for any lost items or damaged baggage.
The office is open every day in concordance with the Arrivals Flight Schedule.
Don't hesitate to contact the Lost and Found facility at +39 079 557 0176 or +39 366 6840325.
Restrooms
Public toilets or public restrooms are open and available for passengers inside the airport property.
ATMs
There are two ATM machines available inside the airport. Euronet ATM and bank of Sardinia ATM are available for cash withdrawals using debit cards, credit cards, and prepaid cards.
These ATM machines are open 24 hours a day.
Currency Exchange
Alghero Airport has a foreign exchange office that outbound and inbound passengers can access for last-minute foreign currency exchange and withdrawal.
Nursing Station
Nursing stations are not available at Alghero Airport. However, passengers with reduced mobility can ask for assistance at the designated help points inside and outside the terminal. You can utilize this special assistance for PRMs to attend to the needs of travelers with infants.
Foods and beverages
Food and drinks can be purchased from restaurants and cafes inside Alghero Airport.
Pet Relief Area
Alghero Airport has no designated pet-relief areas. However, pets' access to the terminal must be assured by complying with the specific rules.
Dogs must be kept on the lead and wear a muzzle in all public areas of the Alghero Airport; alternatively, they must be transported in a suitable traveling cage.
People appointed to look after pets must have all the necessary equipment to clean and remove animal excrement.
Furthermore, before booking the flight, it is compulsory to verify airline limitations by visiting its Website.
We always recommend checking the policies and procedures for transporting animals with your Travel Agency or airline company.
Ticketing Service
All passenger guests of Alghero Airport may purchase their airline tickets at the ticketing counters in the pre-departure area.
Services for excess baggage fees, ticket changes, and re-routed passengers are also provided in this area.
For further details, you may also contact the ticket office through these numbers: +39 079 935282, +39 079 935011; Fax: (+39) 079 935219
History of Alghero Airport
In March 1938, Alghero Airport opened as a military base during World War II. It was equipped with a 700-meter landing strip. Following the war, the runway was expanded and improved.
During the early 1960s, civil activities moved to the east portion of the property, and an old aircraft quarter was utilized as a passenger terminal in 1971.
During the 1970s, the runway was lengthened to 3,000 meters. Tagged to be one of the longest and safest runways in Italy at this time.
In 1980, Alitalia established a flight school at Alghero Airport which trained up to 100 pilots a year, combined with a diversification of activities, including air taxi and maintenance services. The school closed in March 2003.
On 23 November 2007, the airport management was transferred to SO.GE.A.AL. (Società di Gestione Aeroporto di Alghero) For 40 years.
The terminal building was recently renovated and expanded with the construction of a new terminal. This allowed the airport to expand the services offered to travelers. A renovation of the old terminal is planned to transform it into a shopping mall. On 9 April 2008, the new departures and arrivals halls were inaugurated. This expanded the terminal area from 8,000 m2 to approximately 14,000 m2.
About Alghero, Italy
Alghero is a city of about 45,000 inhabitants in the insular Italian region of Sassari in northwestern Sardinia, next to the Mediterranean Sea. The city's name comes from Aleguerium, a medieval Latin word meaning "stagnation of algae."
The inhabitants are distinguished, retaining the Catalan language. The Catalans were known to be the rulers from the end of the Middle Ages. It was also the period when Sardinia was part of the Crown of Aragon. Hence, Alguerese, a Catalan dialect, is officially recognized as a minority language.
Alghero is the third university center on the island, next to Cagliari and Sassari. It houses the headquarters of Università Degli Studi di Sassari's Architecture and Design department.
In 2012, it was recognized as Italy's 10th most visited city.
Weather in Alghero, Italy
In Alghero, the summers take little time. Mostly the winter season is lengthy, cold, windy, and partly cloudy.
Over the year, the temperature usually varies from 43°F to 87°F and is seldom below 35°F or above 95°F.
Based on the beach or pool score, the best time of the year to visit Alghero for some hot-weather activities is from late June to early September.
Useful Contact Details
Alghero is a small Sardinian City home to about 45,000 inhabitants. It is surrounded by ancient walls and archaic structures.
Alghero Emergency Hotlines
Alghero's toll-free emergency hotline service is 118. A prefix is unnecessary and can also be dialed at phone booths without using a card. This hotline is open 24/7, alerting the health care assistance and ambulance service from all over Italy.
The other helpful hotline number is 112, the emergency number for all member states.
Hospital Marino- Queen Margherita
Address: Viale I Maggio, 2, 07041 Alghero Sassari, Italy
Phone: +39 079 995 3111
Alghero State Police Commisariat
Address: Via Fratelli Kennedy, 123/B, 07041 Alghero Sassari, Italy
Phone: +39 079 972 0000
Alghero Airport Contacts
Address: Strada Provinciale 44, 07041 Alghero Sassari, Italy
General Phone: +39 079 935011
Lost and Found Phone: +39 079 557 0176 or +39 366 6840325
Official Website: https://www.aeroportodialghero.it/en
Local Information
Drive on: Right
Electricity: 230V/50Hz
Plug: type C, F, and L
Currency: Euro, €
Email: info@aeroportodialghero.it
WiFi at Airport: Free WiFi is available at Alghero Airport for all its guests.
Services at Alghero Airport
Alghero Airport News and Information